News from Filament Publishing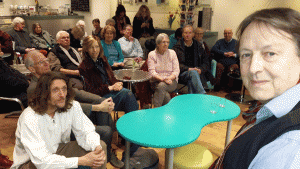 Well done to Chris Sparkes for a packed crowd at One Tree Books in his home town of Petersfield to hear him talk about the launch of his new books 'The Eonian books' and 'The Earth Shaking Truth'
A big thanks to Tim and his team at One Tree Books for hosting the event and for their kind hospitality,  Read more  http://goo.gl/29n7E7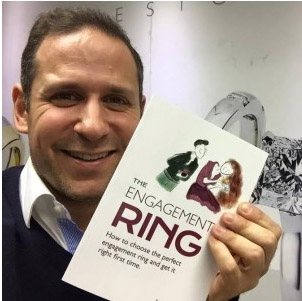 Well done to Lewis Malka, the celebrity diamond jewelary specialist from Hatton Garden, on the launch of his new book 'The Engagement Ring' out on Thursday 4th February. Says Lewis "To be honest it was a long time coming. Having been in the industry for over 25 years now, the most common question I am being asked by clients is "What makes the perfect engagement ring" and "How do I get the best value for money when deciding on what engagement ring to buy?"Now I've written plenty of blogs over the years and you can probably spend day looking through them and collating all information yourself, but why should you? In doing research, and also from my own client experiences, I've come to the conclusion that around a fifth of all women hate their engagement ring. Yes, that's one in five women actually hate their engagement ring. Most don't and won't say anything. With that in mind I've decided to write this book and help you get her what she wants at a price you'll love.
I've had a great mentor in Tim Dingle and I now have a great publishing house, Filament Publishing, guided by Chris Day.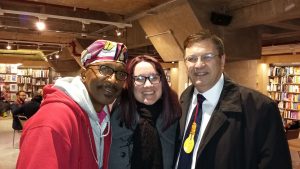 A big thanks to the new Waterstones store in Tottenham Court Road for hosting a successful book launch for Mr Motivator's new book 'The Warm Up'  The store has just opened and has a great cafe!  Big thanks to Helen Lewis of Literally PR for managing all the publicity for Derrick Evans book.  Over 40 media interviews lined up plus ITV Lorraine show.  Mr Motivator is back!
"It's amazing what's happened to the world since I haven't been around," the 63-year-old said. "I've got to keep on spreading the message."If the message that Mr Motivator was spreading back in 1993 was that we should look after ourself, get more active, get our kids out, go and play more, the message is even more relevant now."So why are we not addressing it on television? In fact there's never been anybody to replace me because I'm so good, I'm so hot."
No matter what stage you have reached in writing or publishing your book, our AuthorCraft events give you the opportunity of meeting other authors who are on that same journey, and learning from each other. The event is attended by Literary Agents, Book Editors and other publishing professionals who are there to share their advice and encouragement. Come and be recognised for your achievements by fellow authors and, in turn, share your experiences and knowledge with them.