Submit Your Manuscript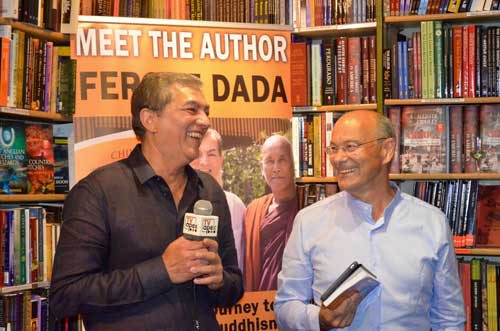 Congratulations to Feroze Dada for a most colourful and spectacular book launch at Watkins bookshop in London's Cecil Court on Tuesday 3rd July. Great entertainment was provided by singer Saira Peter and her musicians, which immediately drew a crowd outside. A fantastic event!
Author Sam Goddard pictured with publisher Chris Day at the launch of her new book Finding Ray's Key at the Institute of Directors in London's Pall Mall on 26th June. Sam is proudly holding a presentation mug containing the inscription "I'm no mug – I'm an Author"  Read more about Finding Ray's Key   Click here 
Octogenarian author hopes to inspire with her debut novel
Having released her debut novel at the age of 88, Kensington author Tessa Levy hopes her late-blooming career can inspire other women to pursue their dreams.
The launch for 'No One But You' took place at The Arch London Hotel in Hyde Park on 24th May, minutes away from the author's apartment, where she has lived most of her life.
While it is extraordinary to publish your first book in your late eighties, Mrs Levy hopes that whoever buys her book enjoys it as much as she did writing it.  READ MORE

Congratulations to Barbara Angela Kealy, author of Double Deception and Joan Collins lookalike, for her interview on ITV's This Morning with Eamonn Holmes and Ruth Langsford.   She is in Waterstones Piccadilly for a celebration event on Thursday 17th May at 6pm in CafeW on the mezzanine floor.
Filament rebooted for 2018
With the start of our new financial year at the start of April, we are putting in place a raft of new facilities to help our authors to be more successful in building a business around their books. READ MORE
Meet our Filament Dream Team!

It is our team that delivers our promises.  All the expertise you need to successfully turn your manuscript into a stunning book, raise your profile, and turn your knowledge into income.  In addition, we have a valued outsource team of other specialists that we work with regularly who we can call on to spread the load. We always have the capacity to help, even at busy times.  We recognise that today's authors need to be proficient in a wide range of skills to build a following, and to raise their profile in all the social media platforms, so we provide opportunities for authors to learn and become self-sufficient as author-preneurs. It is not just what you get, as what you become.
Filament offers traditional publishing services, without any author contribution, to established authors with an existing track record of sales through the book trade, a substantial following on social media, and a high media profile.
For up-and-coming authors of business books, mind body spirit, true stories and biographies, we offer Partnership Publishing where both the author and the publisher work together and play to their individual strengths to produce an outcome that neither could achieve on their own. Partnership Publishing involves an author contribution.
For authors of children's books, Christian titles, and fiction books, we offer a menu of specific services on a Pick'n'Mix basis which supports authors who are self-publishing. This include access to BOOKFLOW, a standalone global book distribution solution for self-published authors.
We publish, print and distribute worldwide into 220 countries. We also have titles in Chinese and Arabic.
Filament also acts as a literary scout on behalf of a leading literary agent to seek out title that have potential for mass market appeal and meet the criteria of the large publishing houses.
Does you book meet our editorial selection criteria?

The Filament Author Bursary Fund
Every book we publish makes a small contribution to our Author Bursary Fund.

This fund enables us to support deserving authors who have a worthwhile book project which, without support, would not be published.

Author Bursaries are awarded on merit and by invitation only, usually based on the recommendation of an editor. In certain circumstances, the fund will also match an author's contribution towards publishing services, pound for pound, to support a project. Bursaries cannot be applied for but may be awarded to help a very special project come to fruition. Recipients of a bursary will remain anonymous and all offers are made privately.