Miriam Payne at local children's writing competition
Miriam Payne, the author of 'A Greyt Christmas Tail', helped out at a locals schools writing competition alongside councillors in Aspull, New Spring and Whelley.  The competition encourages children to pick up a pen and let their creativity flow, with the aim to write a story about their pet or any animal they know which must be set in their local area.
New Books!
Follow Ramsey and Blue on another great adventure in Miriam Payne's new book 'A Greyt Pirate Tale', out on the 27th March!
Oswald Mould's new book 'America the Beautiful' will be launched on the 23rd January. A powerful historical thriller, with a gripping storyline, based on a revealing yet brutal and emotional American History.
after reading this story…readers will see the United States of America in a way you may have never seen it before."

– Oswald Mould
From its original sin of slavery, we hoped America would have changed its ways with the Emancipation and the Reconstruction period. However, its journey through darkness was to continue with the birth of the Ku Klux Klan. They ushered in one of the ugliest, most diabolical periods in American history known as the Jim Crow era. Behind the scenes for over a century the Klan terrorized the emancipated people. They lynched them, burned them, murdered them, shot them and so doing killed thousands of these freed people in the name of white supremacy. Their use of the noose to strike fear in the heart of minority is still ongoing. This is a story of three men, one who defied the Klan another who took Klan ideology to new heights and another who tried to heal.
Ewan Brisco on BBC Radio London
9 times taekwondo champion, Grand Master Ewan Briscoe chats to BBC Radio London about his new book 'Kick Start Your Life'.
''Wherever you are right now, and whatever challenges you face, this book can help you find your purpose and focus on the goals you want to achieve in the future. Get ready to kick start your life!'

– Ewan Briscoe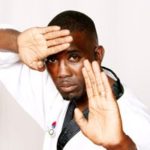 Ewan's book aims to inspire people who are:
Looking for their path in life
Teachers and trainers looking for ways to inspire their students.
Those wondering what their purpose in life is.
struggling to overcome barriers.
Facing personal or work challenges and are in need of inspiration.
Professionals looking to take their career up.
A world-renowned martial artist, member of the 1987 European Championship taekwondo team, three times winner of the Combat Martial Arts Hall of Fame Award, founder of the Panther Taekwondo Academy and Trainer of TV Gladiators Cobra and Panther. Ewan is not another one who bites the dust.
Ewan's family has experienced the impact of violence, gangs and bullying can have in society. Wherever you people have come from, whatever their upbringing, they can be in the wrong placed at the wrong time. Ewan helped many, many children find what inspires them and to be passionate about life, and draw them away from gang culture and crime. Children and young adults have a safe place outside of school and home, and are guided on the right path in life.
Gloria Morgan, Dayglo Books and Nottingham's 'Women of Words' 2018
Gloria Morgan of Dayglo Books – specialist books for those with Dyslexia, was featured in Nottingham UNESCO City of Literatures' 'Women of Words' line-up.
You can see Morgan's picture in the 'rogues gallery' ( half way down) and she also features in the Nottingham's City Trail, where each woman of literature are linked to specific places in the city. Morgan can be found at the Theatre Royal, where she originally launched Dayglo Books.
She was also interviewed by BBC Radio Nottingham about Dayglo Books Tuesday 16th January.
http://nottslit.blogspot.co.uk/2018/01/women-of-words.html
Not only has she been appearing around the Nottingham City 'Women of Words' and on the BBC, Morgan has been featured in the January edition of Indie Authors Monthly Magazine.
Cherron Inko-Tariah on National Day for Staff Networks
Cherron Inko-Tariah, author of 'The Incredible Power of Staff Networks' has been invited to be a guest editor of Diversity Digest leading on creative content for a special edition marking the National Day for Staff Networks (9th May).
Being a former civil servant, Cherron has undertaken leadership roles in various policy and strategic positions across Whitehall, including working with Ministers and Permanent Secretaries. An accomplished Chair of staff networks (one to award-winning status), Cherron has facilitated bespoke training to educate members on the benefits of proactive development. During her career, she has achieved a Post Graduate Diploma in Human Resource Management, and a Masters in Employment Studies and Human Resource Management. She is a member of the Chartered Institute of Personnel and Development (CIPD) and is also a qualified career coach with the Institute of Leadership and Management. In 2011, Cherron received an MBE for her services to HM Government and her work in the faith community with young people.